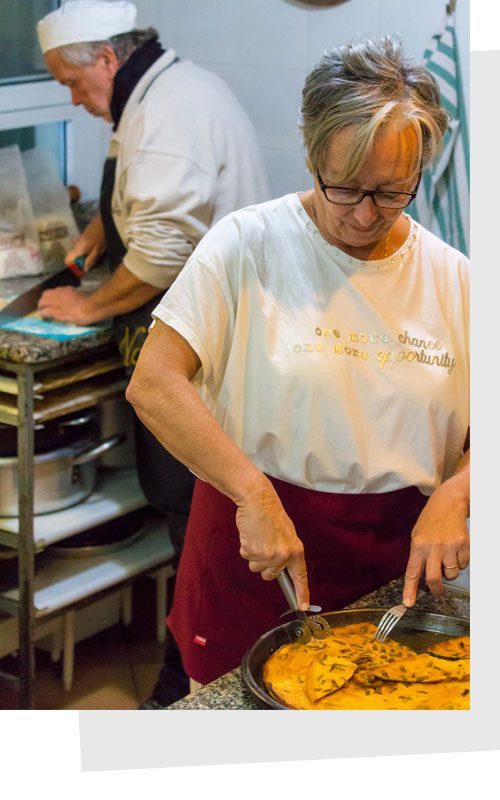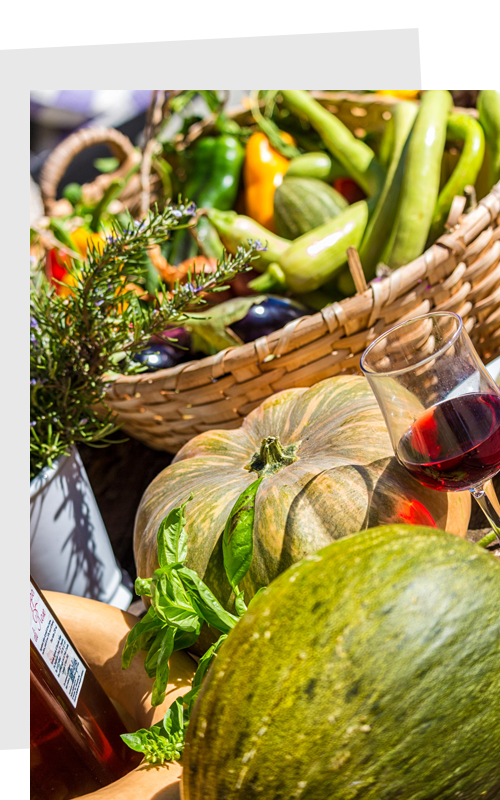 AGRITURISTIC RESTAURANT

A MENU
THAT COMES
FROM OUR GARDEN
Our farmhouse' s restaurant "Le Navi in Cielo", on the first hill behind Imperia, only 5 minutes from the city center, give you the opportunity to enjoy homemade dish cooked with our biological products that came from our farm. We grow them with passion and respect towards the environment to let you savor, in a relaxing atmosphere and breathtaking landscape of Imperia, the delicious recipes that our grandparents and friends' parents taught to us.
AGRITURISTIC RESTAURANT
At our farmhouse' s restaurant "Le Navi in Cielo" we talk:
english, italian, french, and obviously "onegliese", the dialect of Imperia.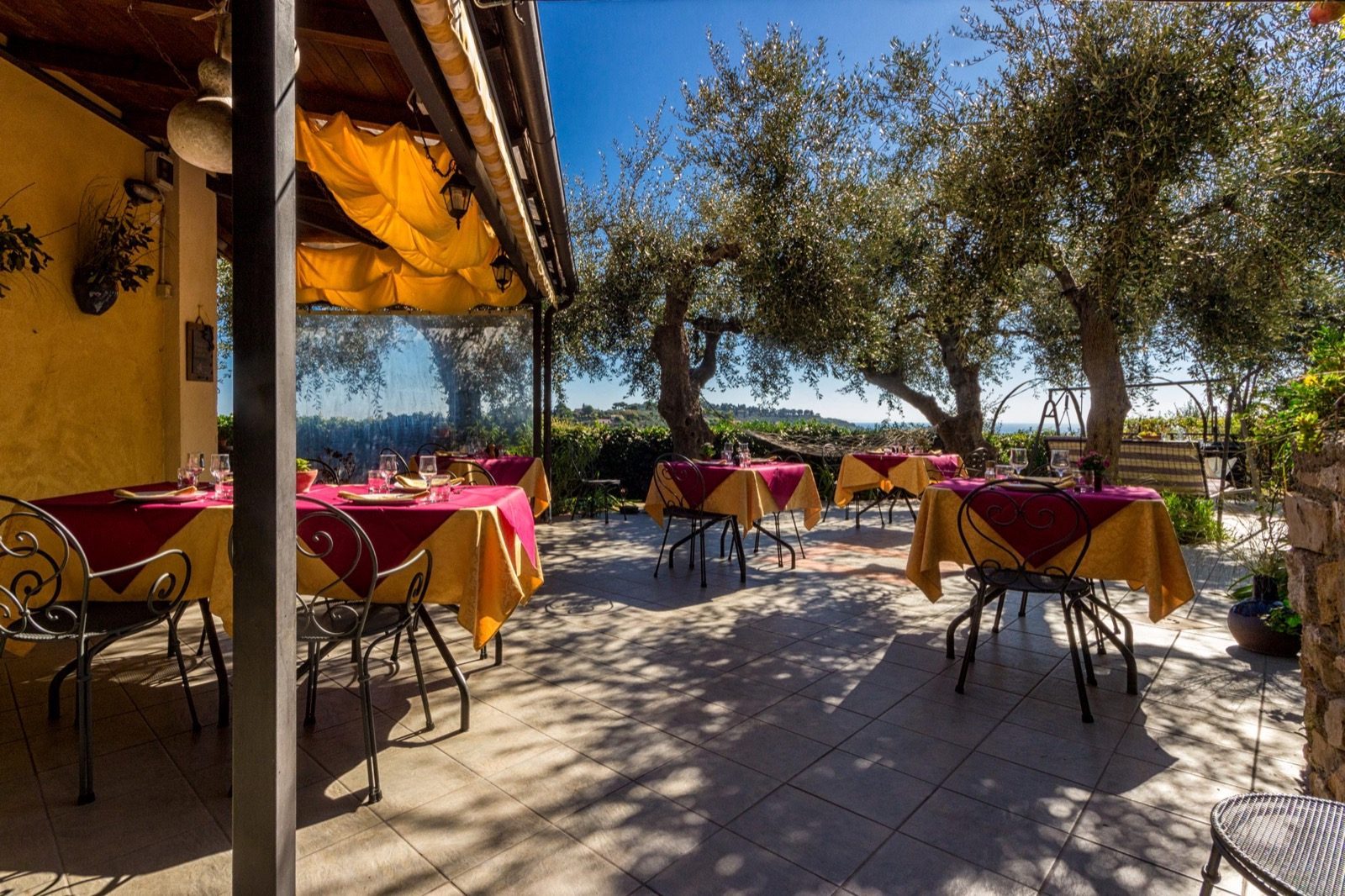 TYPICAL LIGURIAN CUISINE RESTAURANT

GARDEN BETWEEN THE OLIVE TREES
AND RESERVED ROOMS
"The olive trees not only give us delicious oil but they shade us on summer days".
As soon as the beautiful days begin, the garden/outdoor area of ​​our agritourism restaurant becomes the chosen place for lunches and dinners. For lunch in the shade of olive trees, and not only, and for dinner under a starry sky you can taste our traditional Ligurian dishes.
If time does not allow it, but only in that case, our two internal rooms are ready to host you in an intimate and familiar environment.
We are a family-run business, we love to know and pamper our customers, which is why we only work on reservations and on small numbers.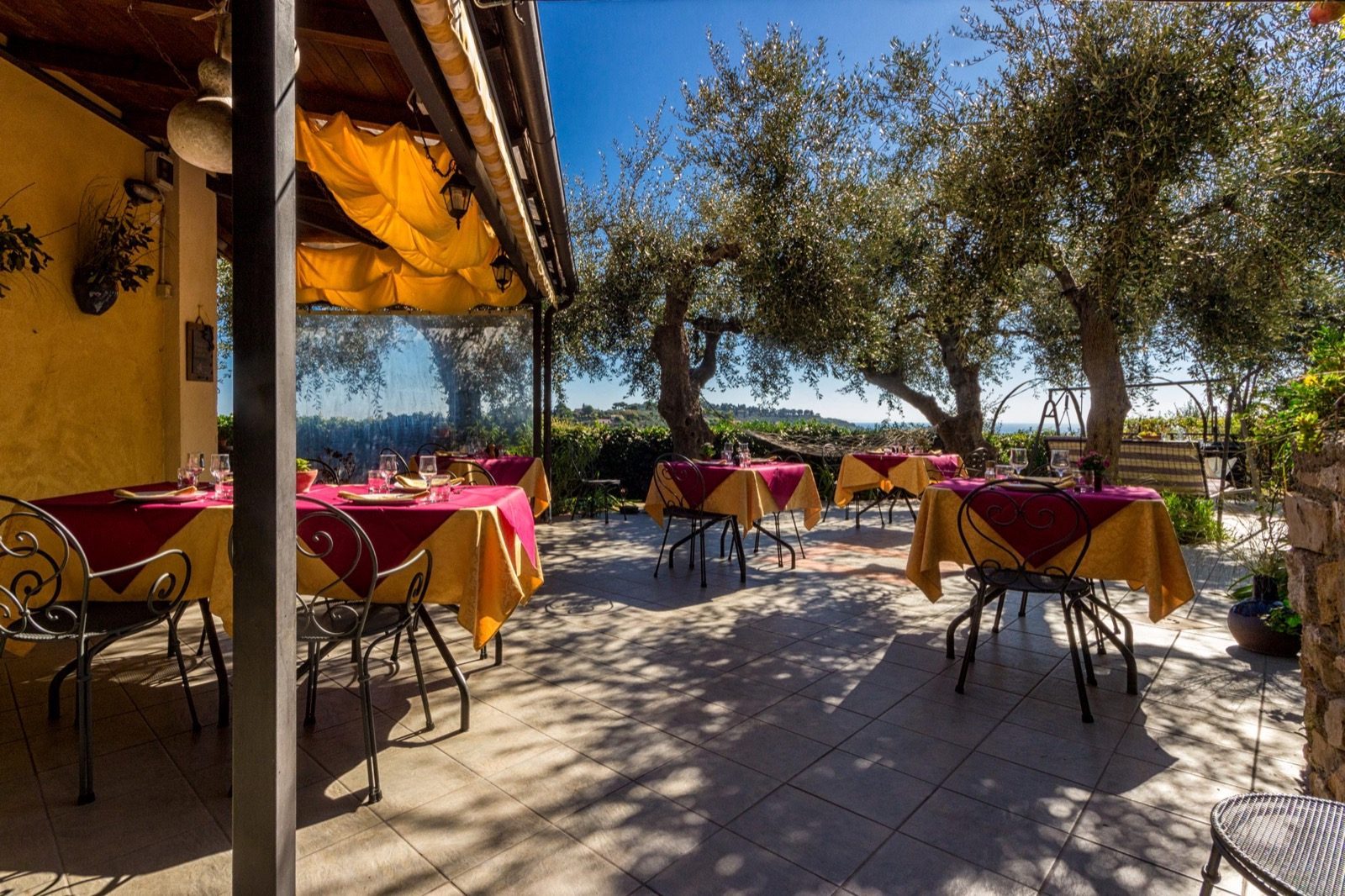 TYPICAL LIGURIAN CUISINE RESTAURANT

A TRADITION OF GENUINE FLAVORS
"The menù is decided by our garden". In this simple phrase, that has represented us from the beginning, there is the essence of our kitchen. Farmhouse means, first of all, Tradition and Genuineness, and in our farmhouse' s restaurant in Imperia you will find this in every dish. We work for this, every year, with great commitment.
The culinary traditions for Riccarda and the teachings of mothers and grandmothers of friends for Luigi, let us prepare dish that respects and enhance Liguria's history.
Le Navi in Cielo restaurant offers light dishes but very rich in flavors and fragrances, that know how to satisfy palate and stomach.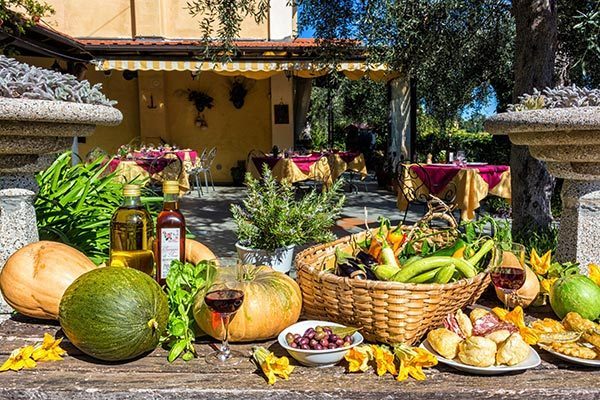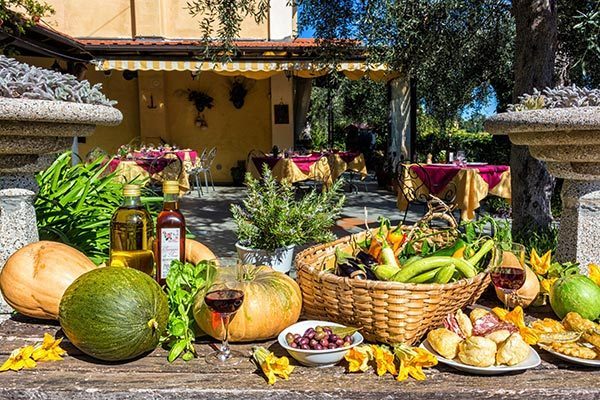 REVIEWS
Few are the places with such attention to the customer, passion for the land and innovation / tradition of typical products. And don't be fooled by the portions: you can repeat what you want!
Delightful place, sublime cuisine: the menu is fixed but it's all so good and genuine that you couldn't ask for more. The owner is very kind and very welcoming.
A truly suggestive location overlooking the sea. Quality cuisine in a family environment. Excellent value for money. I highly recommend it.

OUR WINNING DISHES
THE GARDEN ON THE TABLE
Tris of vegetables' s cakes from the Ligurian tradition: genoese "polpettone", cake of courgette, cake with chard and sausage pasta
MANDILLI DE SAEA AL PESTO
Motivation: 'The search of the truth is in this dish: the perfect and strong taste and the knowledge are in the work made with passion by a farm man that love his land.'
Paolo Teverini, chef awarded several times by the Michelin Guide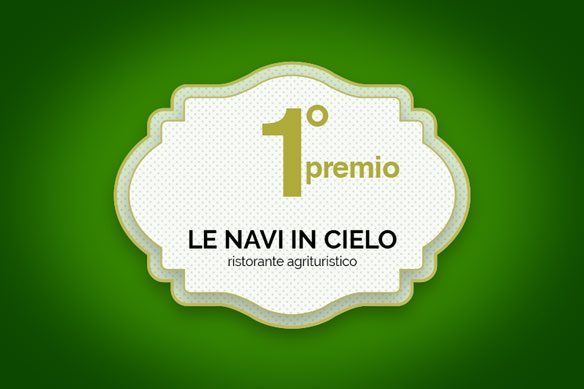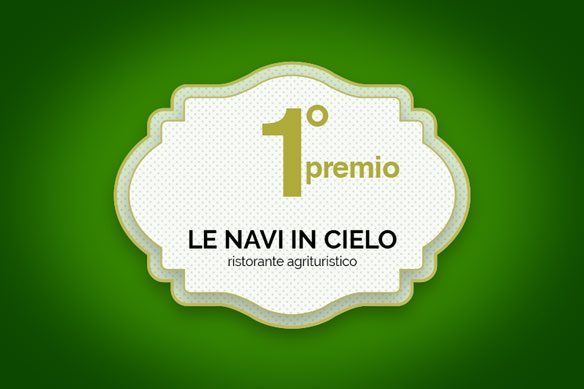 HANDMADE PASTA
with biological flour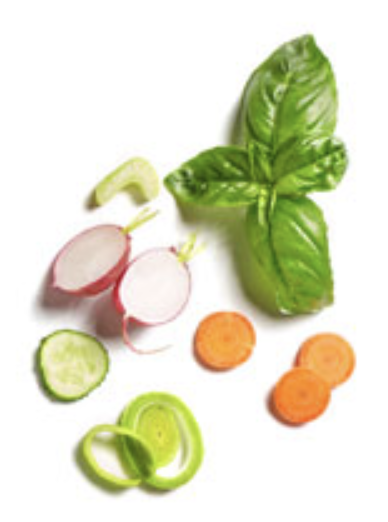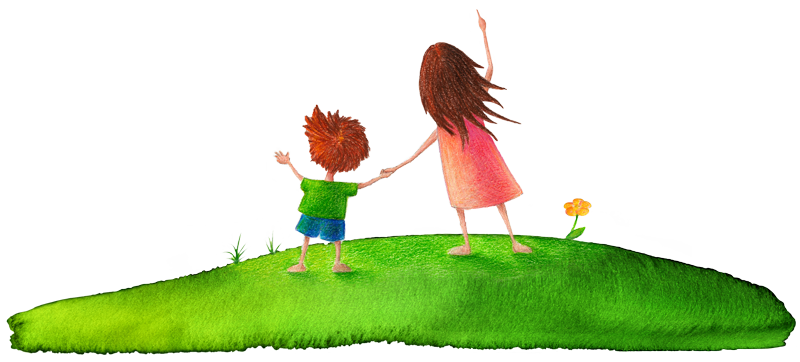 A NAME, A FAIRY TALE
The little girl took her little brother's hand and cautiously accompanied him, through the garden, to the Belvedere; they leaned against the railing smiling, because it was dark by now and they wanted to look at the moon, to count the stars. Their eyes widened in astonishment when they saw the ship, with its silver plumes and its colored lights, lightly furrowing the foam of the clouds: it went fast, with its load of stories and mysteries, and they pointed them excitedly with their finger. "Mum! Mother! "The child shouted enthusiastically." Mom, come and see: there are Ships in the Sky (Le Navi in Cielo)! "
Is it a fairy tale? Yes, but not entirely
In front of our restaurant we see the vast sea of ​​Imperia but beyond the promontory in front of us we see a stretch of sea with a smile shape that, on certain days and every night, merges with the sky.
Many years ago, our daughter Carlotta, just after the sunset of a late September day, was in the garden playing as usual, because the climate here is always mild.
Suddenly, all out of breath and with red cheeks of emotion, she rushed into the house shouting: "Daddy, Mom, come soon!" We asked her what had happened, and she replied with the astonishment of a 5 year old girl: "There is a ship in the sky!"
We have always seen cruise ships pass by, often looking at them with a bit of envy, but it took a child's gaze to catch the poetry.
On the other hand, as fairy tales tell us, if only for the child the King is naked, it is right that for a child ships could be in the sky.
The view from our restaurant; on days with clear skies, Corsica and Tuscany can be clearly seen.
The view from our restaurant; on days with clear skies, Corsica and Tuscany can be clearly seen.

DIRECTIONS
Highway A10, exit Imperia EST
After the junction, at the roundabout, go left towards the city center (via Garessio) until the Carceri' s roundabout; take the 2° exit and proceed up the Cascine hill (via Agnesi – via Berio – Villa Grock – Via Fanny Roncati Carli) until you reach the little church of San Luca which is on a U-shaped hairpin bend; after about 300 meters turn left at the junction for Via Molino dei Giusi (where you'll find our signal panel), therefore always keep right until number 22.
Journey time: 10 minutes.

GPS
WARNING: there are two routes to reach Le Navi In Cielo and satellite maps, unfortunately, often signal the most tortuous road. To get there more easily we suggest you to follow this simple procedure:
Set GPS to:
Villa Grock, Via Roncati Carli
From Villa Grock, set up:
Via Molino dei Giusi, 22