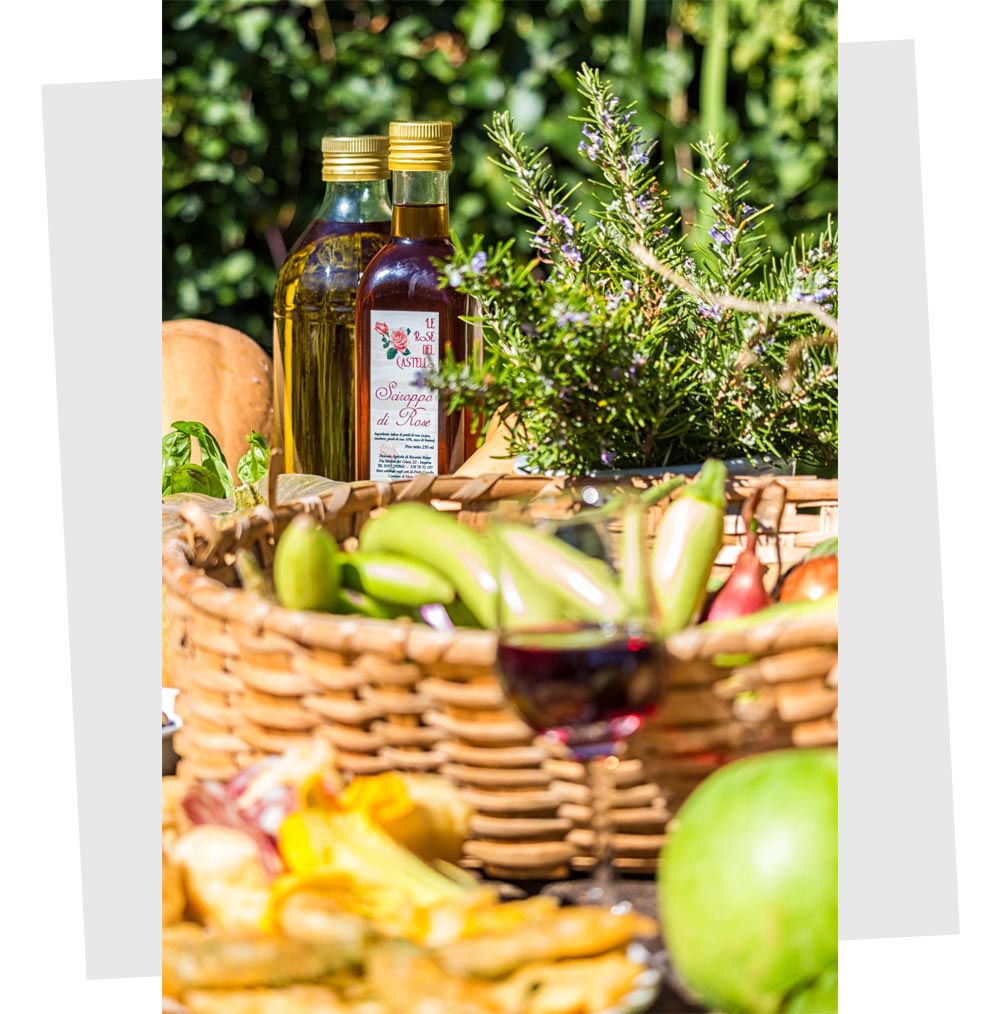 BIOLOGICAL PRODUCTS

In the garden of Prelà Castello we grow roses to make rose syrup. They are old roses (the youngest selection date 1935), created specifically for food use. They have an incredibly heady scent, but theirs is an ephemeral beauty: they last up to 48 hours and must be collected, patiently, almost every day and under the sun, because they must be perfectly dry. Every harvest has hundreds of buds that are processed only with boiling water, a little lemon and sugar. Biologically.
That of rose' s syrup is a typically Genoese tradition, practically unknown in the western Liguria, but Luigi, who grew up in Genoa, started to cultivate them as soon as he found the perfect vegetable garden: in the hills, away from the greenhouses, with spring water.
BIOLOGICAL PRODUCTS
In our restaurant we use Le Rose del Castello (this is the name we gave to our rose' s syrup) to make
the aperitif that we offer in large parties, or to accompany some of our desserts.
VEGETABLES, FRUIT, OIL, SYRUP

BUY
IN THE FARMHOUSE
You can buy the biological products from our garden and our olive groves directly on our farm in Imperia.
Taggiasca DOP quality extra virgin olive oil, Le Rose del Castello rose' s syrup, aubergines, tomatoes, pumpkins, courgettes, peppers, melons, meloncello, watermelons, figs, salads, cabbages, onions and spring onions, oranges, lemons, plums, green beans and other vegetables and fruits depending on the season.

DIRECTIONS
Highway A10, exit Imperia EST
After the junction, at the roundabout, go left towards the city center (via Garessio) until the Carceri' s roundabout; take the 2° exit and proceed up the Cascine hill (via Agnesi – via Berio – Villa Grock – Via Fanny Roncati Carli) until you reach the little church of San Luca which is on a U-shaped hairpin bend; after about 300 meters turn left at the junction for Via Molino dei Giusi (where you'll find our signal panel), therefore always keep right until number 22.
Journey time: 10 minutes.

GPS
WARNING: there are two routes to reach Le Navi In Cielo and satellite maps, unfortunately, often signal the most tortuous road. To get there more easily we suggest you to follow this simple procedure:
Set GPS to:
Villa Grock, Via Roncati Carli
From Villa Grock, set up:
Via Molino dei Giusi, 22