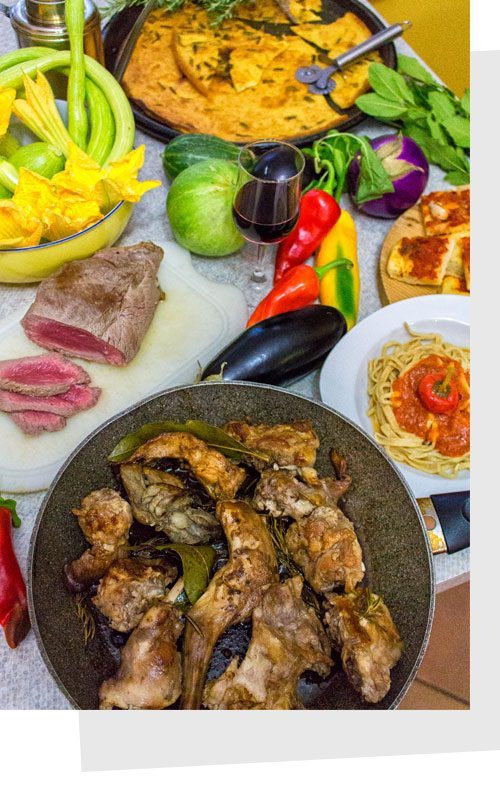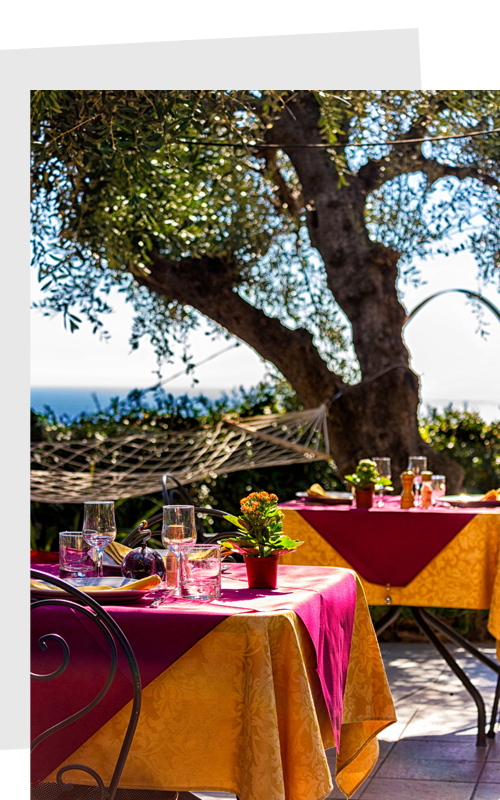 FARMHOUSE

WE CULTIVATE
AND PRODUCE
BIOLOGICALLY
Our family-run farmhouse strictly follows biological criteria in the production of extra virgin olive oil DOP, olives, seasonal vegetables and fruit, petal roses for making syrup, jams and jellies. Our products can be purchased directly on the farm and are used in the preparation of the dishes served at the Le Navi in ​​Cielo restaurant.
FARMHOUSE
We cultivate biological products, therefore without pesticides, herbicides, insecticides and chemical fertilizers.
We use mulch and weed the weeds patiently, by hand.

GROVES
Most of our olive trees, of the prized Taggiasca variety, surround the headquarters of the Agricultural Company and the Farmhouse on the hills of Imperia Oneglia. Another small olive grove is in Prelà Castello, a small fairy-tale village of only thirteen inhabitants, in the Municipality of Vasia in the immediate hinterland of Imperia. Our small Prelà Castello olive grove is located at an altitude of about 400 meters at about 10 km from the sea.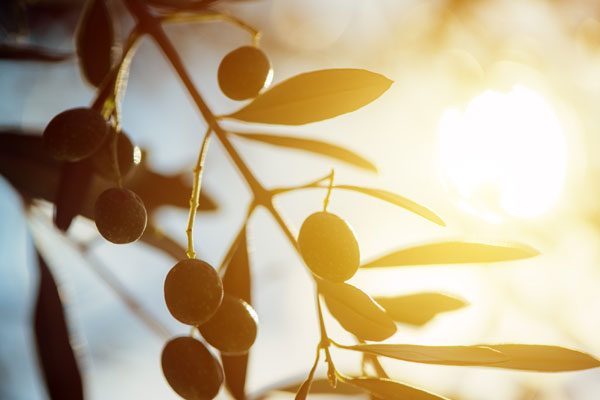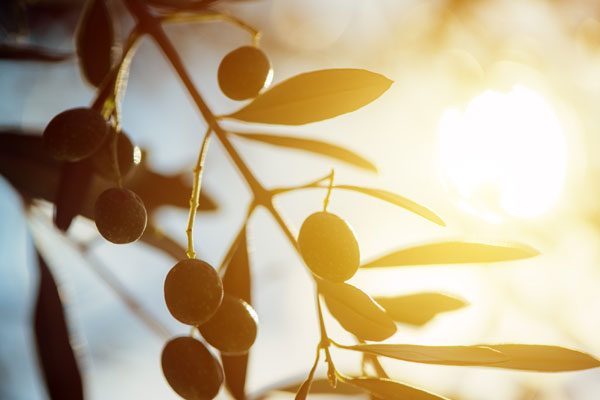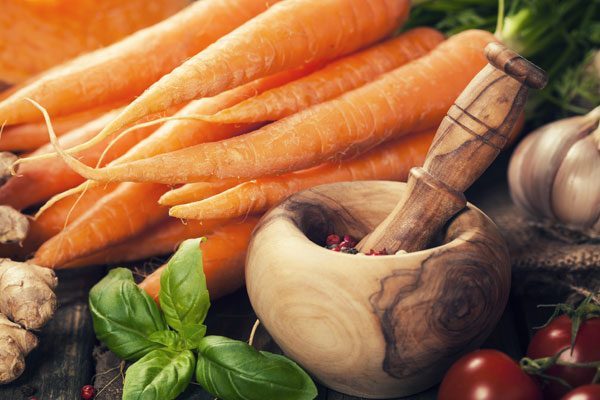 VEGETABLES GARDENS
Our vegetable gardens near the headquarters and restaurant in Imperia, are arranged on very narrow strips, typical of Liguria, 200 meters above sea level and facing the sea. That of Prelà Castello (about 600 square meters at about 400 meters above sea level) are arranged on a single strip.
We literally cultivate everything, out of passion and curiosity, so as to guarantee to our restaurant products that are always fresh, of the highest quality and above all biological.
Every year we plant about 15 different qualities of tomatoes, small or large, round or datterini, red or yellow, orange or black: our tomato salads are a triumph of colors and, of course, of taste. We grow 4 different types of aubergines and each quality has its own particular recipe.
We are still in the old way: we do not use pesticides or chemicals, weed out weeds by hand, so that zucchini tastes like courgette and pepper like pepper. Sorry, but it is an added value.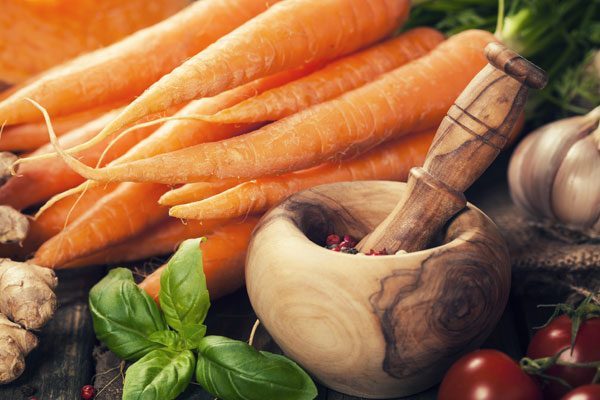 BUY OUR PRODUCTS
directly in the farmhouse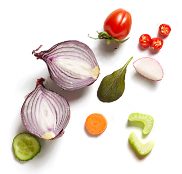 LET'S KNOW EACH OTHER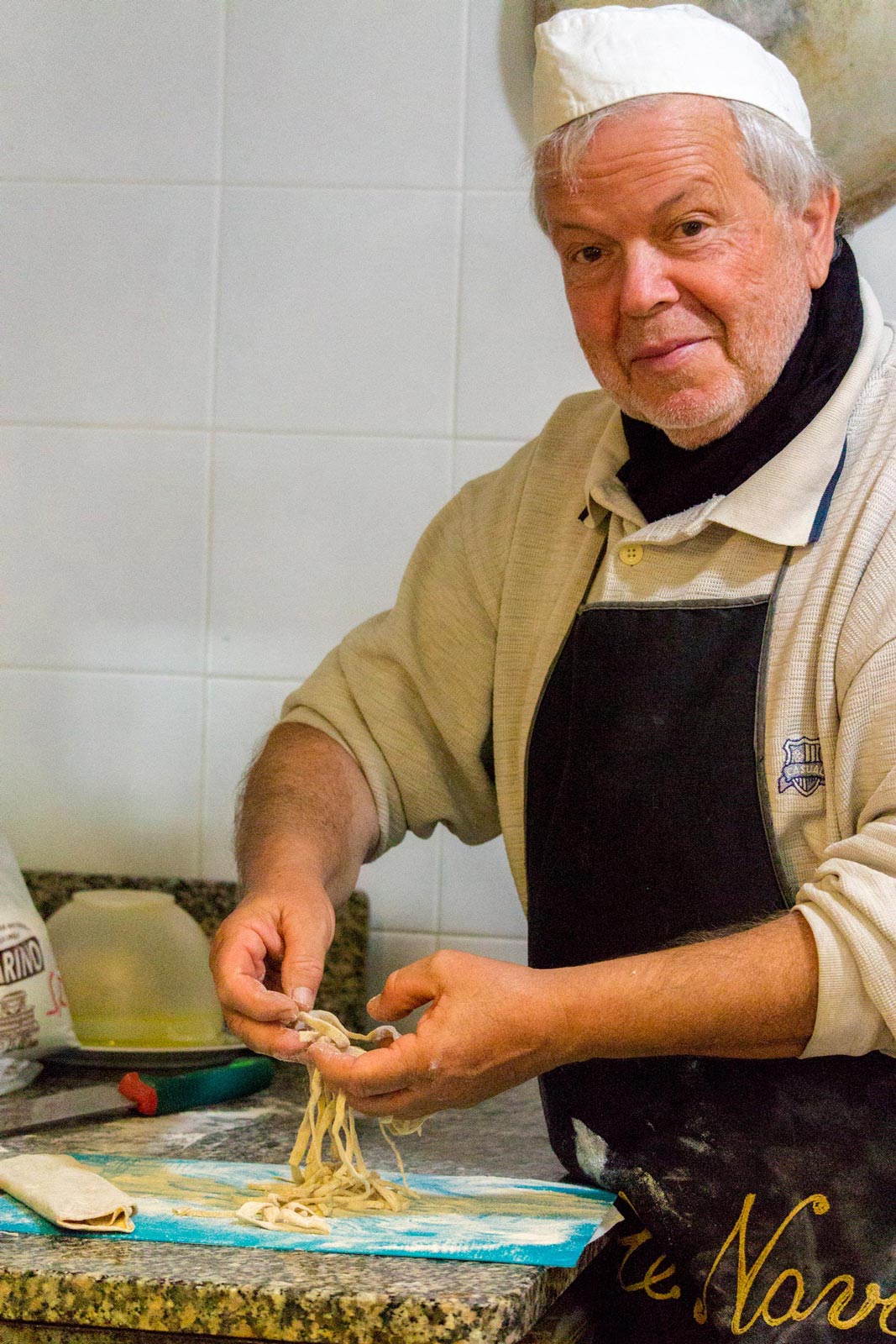 Our farmhouse is managed by Luigi and Riccarda.
Our family moved here, from Genoa, in 1998 to return to live in what was the family home of Riccarda' s family. Here, in the midst of ancient olive groves, Riccarda as a child spent all her summer holidays in the company of Nonna Angiolina. At the time there was only a small house, without water, light or gas: those who went to visit them had to bring water; evenings were by candlelight or out in the garden, under the moonlight, singing old dialect songs with crickets in the background. Over time the house was rebuilt and then restored to adapt it to the normal life of a family. Meanwhile Riccarda moved to Genoa for university studies and after graduating in biological sciences mets and married Luigi. Over the years he worked first in the I.S.T. (medical hospital) and then in a company that dealt mainly with machinery for hematology departments. On behalf of this company Riccarda trained doctors and laboratory technicians.
Luigi, born in Sardinia and transferred to Genoa at the age of 8, worked as a binder and even restored antique books from the nineteenth century by himself.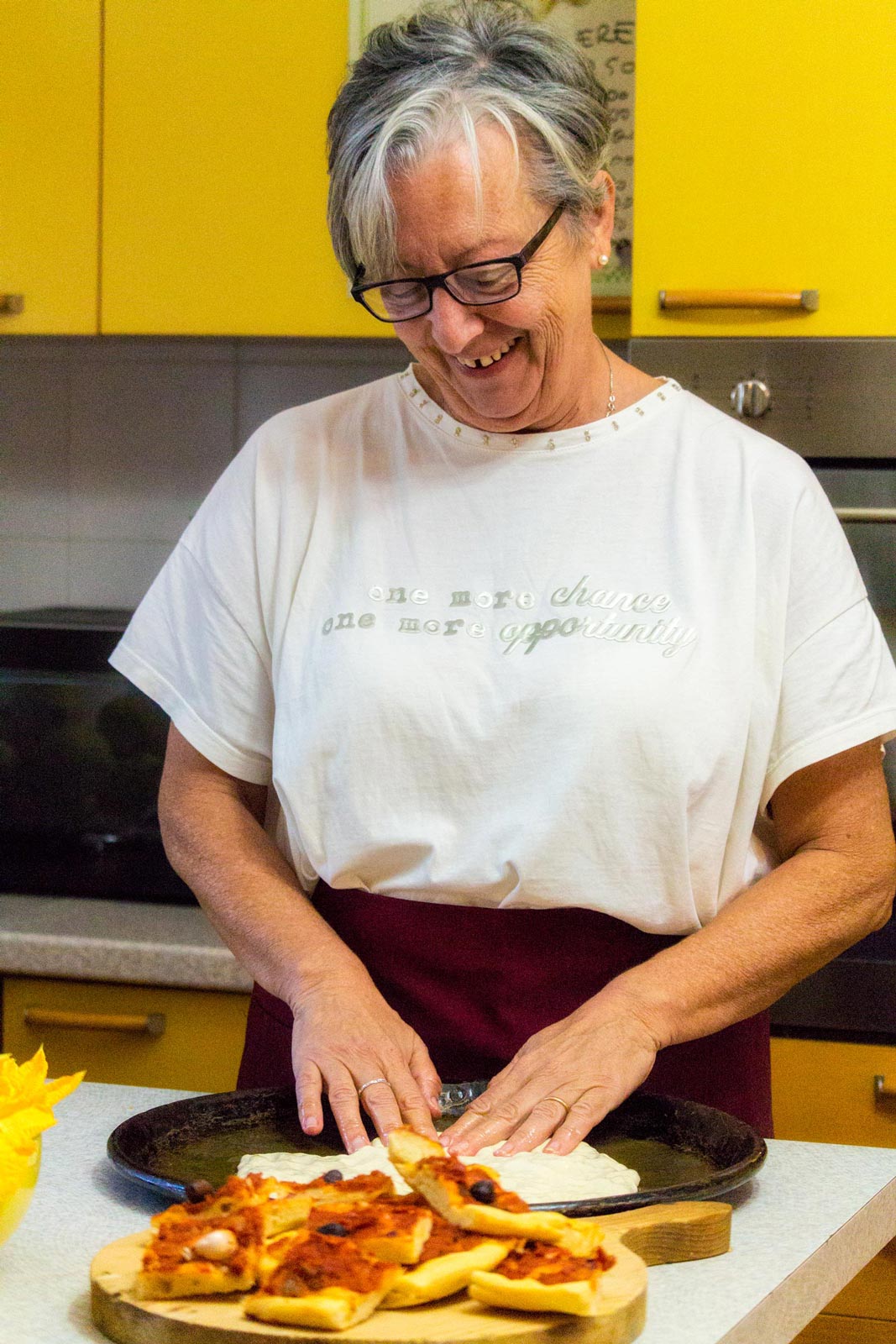 After a few years of marriage, the desire was strong to leave the big city to return to living in contact with nature, and what better place than the house in the countryside on the hill behind Imperia?
Thus, having left their respective jobs, this new adventure began.
First the farm was opened on family land and then over time other olive groves and vegetable gardens were acquired to give it a more economically stable consistency. The horticultural raw materials are taken care of by Luigi almost as if they were children, while the olive groves are followed 4 hands by both Riccarda and Luigi. The olive groves, of course, are exclusively Taggiasca olives.
But Luigi had always had a dream: to cook what he had seen doing for years in the kitchens of his friends and parent' s friends.
Riccarda also grew up in what was, from the end of the 1800s until the mid-1980s, the family bar (and once also a trattoria): the Bacicadda, on the port of Oneglia, where, on market days, there was the line to eat the piscelandrea of ​​the mythical Aunt Lina. The same recipe of piscelandrea that we now offer in our menus.
So it was "natural" to open Le Navi in ​​Cielo farmhouse restaurant where you can taste typical Ligurian dishes.


DIRECTIONS
Highway A10, exit Imperia EST
After the junction, at the roundabout, go left towards the city center (via Garessio) until the Carceri' s roundabout; take the 2° exit and proceed up the Cascine hill (via Agnesi – via Berio – Villa Grock – Via Fanny Roncati Carli) until you reach the little church of San Luca which is on a U-shaped hairpin bend; after about 300 meters turn left at the junction for Via Molino dei Giusi (where you'll find our signal panel), therefore always keep right until number 22.
Journey time: 10 minutes.

GPS
WARNING: there are two routes to reach Le Navi In Cielo and satellite maps, unfortunately, often signal the most tortuous road. To get there more easily we suggest you to follow this simple procedure:
Set GPS to:
Villa Grock, Via Roncati Carli
From Villa Grock, set up:
Via Molino dei Giusi, 22